Napoli striker Victor Osimhen linked with transfer to Spurs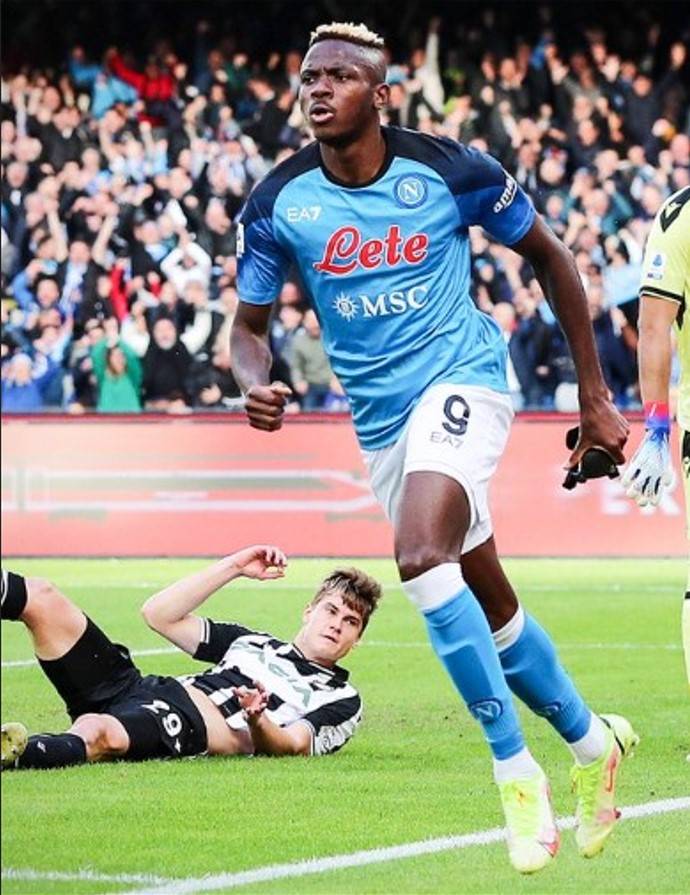 Victor Osimhen linked with transfer to Spurs – Rumour Summary
Several news outlets including football.London have linked Tottenham with a move for striker Victor Osimhen, who currently plays his football in Italy with Napoli.
The rumoured fee is £85m, which is a significant fee but due to competition in the past from rivals Arsenal and as a result of his impressive performances in front of goal Spurs may feel that Osimhen could be a viable option.
Osimhen has spoken about his future in June 2022 with Italian news outlet calciomercato (via Football.London).
He said: "I don't know my future, I know anything can happen, but now I just want to go on holiday with my family, clear my head and recharge my batteries. Then we'll take care of everything else."
Reports also suggest that Spurs' ability to offer Osimhen UEFA Champions League football could be significant if Antonio Conte does indeed try to sign him.
Lorenzo Amuso, an Italian journalist talking to Calciomercato (via Sport Witness) said:
"Conte, thanks to the Champions League qualification, has obtained great guarantees on the transfer market, so we can expect really great things from Tottenham."
Victor Osimhen – Player Profile
Victor James Osimhen was born in Lagos in Nigeria. His early days in the game saw him play for Ultimate Strikers Academy in his local area before he successfully signed for German club Wolfsburg in January 2017.
He made his Bundesliga debut in a draw against Borussia Monchengladbach in May 2020 following an injury that kept him out for a significant amount of time. He made 14 appearances overall at the club where he did not find the back of the net.
This all changed significantly when he made the move to Charleroi of Belgium, with whom he scored 20 goals in 36 games after his £3m move.
He then made the move to French club Lille in July 2019 for £19.5m. He scored 18 goals and got 6 assists in his 38 appearances for the club before making a blockbuster £65.2m move to Napoli.
He has made 76 appearances in all competitions, scoring 38 goals and he has also provided 12 assists for his teammates.
Victor Osimhen vs. Erling Haaland
According to The Boot Room, Napoli sporting director Cristiano Giuntoli has said that Osimhen is of the same level as Manchester City star Erling Haaland. Let's compare the two.
Starting with Erling Haaland, over the course of his career he has played for Norwegian club Molde, as well as Borussia Dortmund, RB Salzburg and now with the Citizens.
In his 201 appearances so far, he has scored 158 goals whilst also providing 39 assists.
As for Osimhen, he has so far made 166 career appearances and he has scored 76 goals and has provided 22 assists.
Whilst Haaland's record is superior at the moment, Osimhen's record shows that he is also a top striker and he would be a fantastic signing for Spurs to get fans off their seats.
Sources: TransferMarkt, Wikipedia, Sport Witness, Calciomercato, The Boot Room & Football.London.
---
Our Spurs tickets and hospitality packages are available for all upcoming Spurs home matches at the new Tottenham Hotspur Stadium this 2023/24 Premier League season.
To purchase, click on the relevant link below.
Also, be sure to follow us on Facebook and Twitter to keep up to date with the latest ticket information and sign up for our regular Spurs Newsletter for all things Tottenham Hotspur!
Spurs Upcoming Home Fixtures