Harry Kane: Record Breaker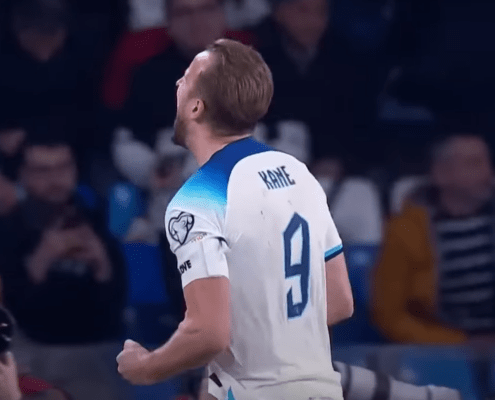 After making history with Spurs, Harry Kane is now England's all-time leading goal scorer
Harry Kane has been one of the best strikers in world football for a number of years now, and this past year has been highly significant for the England and Spurs captain.
A league cup tie at White Hart Lane in the 2013/14 season against Hull City saw Kane score his very first goal for Tottenham Hotspur, and he has most certainly not looked back.
Fast forward to January 2023 in which Kane scored the winning goal in a Premier League match against Fulham, matching the goal scoring record of the legendary Jimmy Greaves. It did not take long for the forward to break the record that had stood for more than 50 years.
In a fantastic win over Manchester City, Kane scored the winning goal to make history with his 267th goal for Tottenham, surpassing Greaves' record of 266.
With the status of being his club's all-time leading goal scorer, he then set his sights on becoming the all-time leading goal scorer for his country. The record was set at 53 by Wayne Rooney after scoring in a 2-0 win against Switzerland in September 2015.
Wayne Rooney was substituted in a Euro 2016 qualification match against Lithuania at Wembley, with Kane coming on to make his debut, scoring within 80 seconds to seal a 4-0 victory for the Three Lions.
This goal was a sign of things to come and a couple of games later he scored once again, this time in a 6-0 win against San Marino. This win sealed England's qualification for the 2016 Euros.
England played Scotland in a World Cup qualification match at Hampden Park in June 2017, and this would be the first time that Kane would be named captain.
The forward saved his country from defeat when he scored a last minute equaliser in a match which was a renewal of the long standing rivalry between the two neighbouring nations.
The 2018 World Cup in Russia started in the best possible fashion for Kane and England, with the forward scoring the winner against Tunisia before scoring a hat-trick in a 6-1 win against Panama.
This was not only the Three Lions' biggest ever victory in the tournament, it also saw Kane become the third England player to have scored a hattrick at the World Cup. The other two players to have achieved this are Geoff Hurst (vs. West Germany, 1966) and Gary Lineker (vs. Poland, 1986).
England went on to finish fourth at the 2018 World Cup, with Kane winning the golden boot at the tournament with a record of 6 goals.
Kane was the captain for England's 1000th match, where he scored a hat-trick in a 7-0 EURO 2020 qualification match against Montenegro. He was also the first Englishman to score in all of the qualification matches, with 12 goals in total.
It was a goal from the Spurs striker that sealed England's place in the Euro 2020 final, which was their first major final since 1966, but they were unfortunately defeated on penalties by Italy.
In the final qualification matches for the 2022 World Cup against Albania and San Marino, Kane scored a hat-trick in both matches before going on to score his 50th goal for England in a Nations League match against Germany.
The two goals scored by Kane in Qatar meant that he had now matched the goals record for England set by Rooney. Gareth Southgate's side were knocked out of the competition in the Quarter Final against France.
History was made on 23rd March 2023 when Kane scored from the spot in a 2-1 win against Italy in Euro 2024 Qualifier, becoming England's all-time leading goal scorer. Perhaps it was fate after he replaced Rooney from the bench on his debut all those years ago.
This was also England's first win away from home against the Azzurri since 1961. It was a 3-2 win for England on that occasion, with Jimmy Greaves and Gerry Hitchens scoring the goals.
If you missed the game you can see Harry Kane's goal and the match highlights here:
Following a match against Ukraine, Kane will return to Premier League action with Spurs. Three of their next five matches are at home, where the Lilywhites will face Brighton, Bournemouth and Manchester United.
---
Our Spurs tickets and hospitality packages are available for all upcoming Spurs home matches at the new Tottenham Hotspur Stadium this 2023/24 Premier League season.
To purchase, click on the relevant link below.
Also, be sure to follow us on Facebook and Twitter to keep up to date with the latest ticket information and sign up for our regular Spurs Newsletter for all things Tottenham Hotspur!
Spurs Upcoming Home Fixtures