Alejo Veliz signs for Spurs from Rosario Central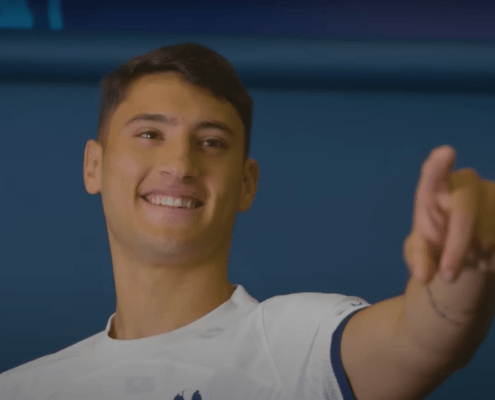 The Argentine forward signs for Tottenham on a six year deal.
Tuesday saw Tottenham Hotspur announce the signing of Argentinian forward Alejo Veliz from Rosario Central for a reported fee in the region of £13 million. He signed a six year contract at the club, which expires in 2029.
Veliz signs for the Lilywhites from Rosario Central. He arrives after spending half of the 2023 season in the Argentine Primera Division, scoring 11 goals and providing one assist in his 23 appearances for the club. The forward leaves with the club sitting in 8th place with 42 points.
Tottenham Hotspur, led by Head Coach Ange Postecoglou, will set their sights on returning to European football in the 2023/24 Premier League campaign after narrowly missing out last season. The Lilywhites will be hoping that Veliz, alongside Spurs' other new signings, will be able to help guide the club to achieving their ultimate goals for the season.
Upon joining the club, Alejo told SPURSPLAY (via Spurs' Website): "When I first found out about everything that was happening and that the club was interested in me, to be honest with you, I couldn't believe it. It really didn't sink in until I actually arrived here, and I realised exactly what was here. It really is a magnificent club and here's hoping that I make the very most of my opportunity and perform in the best way possible.
"I'm coming here with a huge desire to do well. I'm totally on board and 100 per cent focused on the task in hand here. I'm really pleased and grateful to have my family here with me, they're always with me, and I'm totally fulfilling a dream, coming here to such a massive club. I will do my level best to grab my opportunity, and hopefully, everything will go as well as it possibly can for me here."
Alejo Veliz began his career in his native Argentina with MCSD Gödeken in 2006, playing in their youth academy. After three years with the club, he decided to sign for Club Unión Deportivo y Cultural – he played at various levels in their academy until he chose to sign for Rosario Central in 2019, aged 16.
The pandemic did disrupt his initial few months at the club, with youth competitions on hold. After impressing, Veliz made his professional debut for Rosario Central on 23rd July 2021 in the Round of 16 of the Copa Sudamericana as a substitute in a 1-0 victory. He only made five appearances in all competitions in the 2021 season, but it was in the 2022 campaign that Veliz began to shine.
His first goal for the club came on 2nd May 2022 during a 2 – 1 Copa de la Liga defeat against Club Atlético Huracán. Veliz followed this up with another goal in the next game in a 3 – 1 Argentine Primera Division win against Estudiantes. He was also the only goal scorer in a 1-0 league win against Newell's Old Boys on 21st July 2022 – this is a fierce local derby, more commonly known as the Clásico Rosarino (Rosario Derby).
Over the course of the 2022 season, Alejo Veliz made 28 appearances in all competitions, with 26 of these coming in the league. The forward scored six goals whilst also providing an assist to boot. He was part of the Rosario Central team that finished 20th with 32 points.
As mentioned, the 2023 season has been a great one for Veliz, and he will be hoping to carry his form into the Premier League and help Spurs to realise their ambitions for the 2023/24 season.
This looks like a promising signing for Spurs, and at the age of 19, he has plenty of potential, so he is a good player for the present, and chances are that he'll be an even better player in the future for Tottenham.
Watch Spurs in some style at the Tottenham Hotspur Stadium in the 2023/24 Premier League season with an Eventmasters VIP Hospitality Package.
Spurs Upcoming Matches 2023/24
Premier League fixtures for the 2023/24 season
Register now for Priority 2023/2024 Spurs Ticket information