Spurs Latest: Ange Postecoglou speaks with the press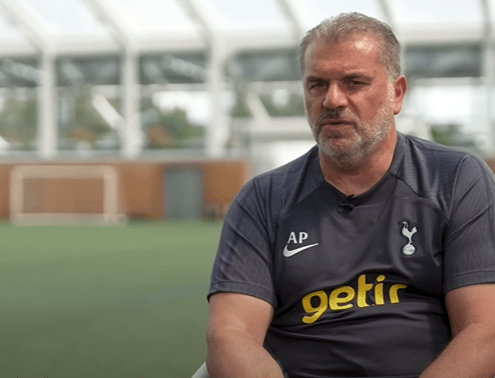 Spurs' Head Coach spoke to the media on Tuesday on a variety of topics, including the future of Harry Kane.
Since becoming Antonio Conte's permanent successor at Tottenham Hotspur in early June 2023, Ange Postecoglou has been putting his own stamp on the team both on the training ground and in the transfer market.
Despite the summer transfer window being in its infancy, the Lilywhites have been active and, as of the time of writing, the club have signed three new players, with a further 2 making their stays at the Tottenham Hotspur Stadium permanent.
James Maddison completed a transfer from Leicester City for £40 million, whilst Guglielmo Vicario joined from Italian side Empoli for £17.2 million. Manor Solomon joined on a free transfer from Fulham, with Dejan Kulusevski and Pedro Porro making their moves permanent.
Full back Destiny Udogie was on loan at Udinese last season after joining Spurs in August 2022 before being loaned out to the Italian club. Udogie looks like he is playing a pivotal role in the Lilywhites' season after a great campaign with Udinese, scoring three goals and making four assists in his 33 league appearances in Serie A last term.
Head Coach Postecoglou spoke to the press on Tuesday, and one of the topics was based on his plan for Spurs and putting his stamp on the team. He said (via The Guardian): "When there is resistance, it slows the process down. What I've made clear is it won't change the process; it won't change me. It'll maybe derail it for a little bit, but it won't derail it for long because I won't allow it. The quicker they jump on the train, the quicker we'll get to our destination."
It was a surprise to absolutely no one that the future of Harry Kane, the club and England's all-time leading goal scorer, was one of the main topics of the press conference. German giants Bayern Munich have been credited with an interest, and they don't look like they will give up, with speculation suggesting that another bid may be imminent.
Postecoglou wasted no time giving his thoughts on the latest around Kane's future at the club. He said (via The Guardian): "What I know right now is that Harry is part of this squad and he's looking forward to coming back to training. If I spend too much time worrying about the impact it might have either way, I'm going to miss trying to build a team because, ultimately, that's what's going to make us successful.
"I don't think it's my role to sit down and treat people in a (certain) manner because of their circumstances. I'm really big on treating everyone the same. Harry has already entrenched himself in the history of this football club. He's one of the premier strikers in the world, and I want him involved. My conversation with him will be about how we can make this club successful."
Whilst the future of Harry Kane is in doubt with speculation rampant, Head Coach Ange Postecoglou seems calm and has set about putting his stamp on the team with pre-season matches there to establish his style of play. The Australian coach will look to then start the season strongly with the aim of guiding the club to a return to European football after an 8th-place finish last term.
Watch Spurs in some style at the Tottenham Hotspur Stadium in the 2023/24 Premier League season with an Eventmasters VIP Hospitality Package.
The Premier League fixtures for the 2023/24 season have been released!
Register now for Priority 2023/2024 Spurs Ticket information