Spurs vs Chelsea History: Down The Years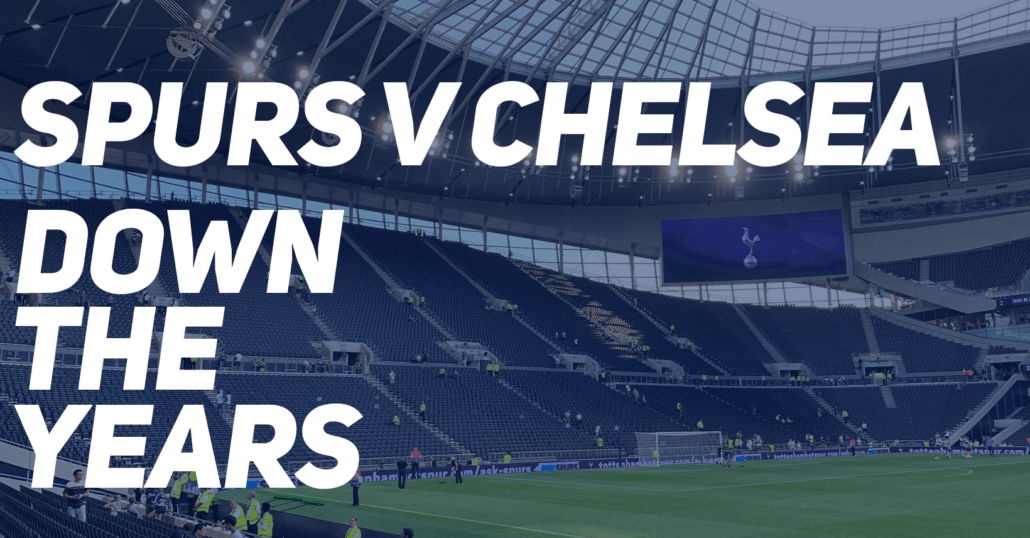 Tottenham Hotspur and Chelsea are two of the biggest football clubs in the UK, and the Spurs v Chelsea London derby is always a feisty affair.
Both Tottenham and Chelsea have tasted success in recent years, with Chelsea winning several Champions League and Premier League titles after being bought out by Russian billionaire Roman Abramovich.
Spurs placed fifth in the Premier League following Mauricio Pochettino's appointment and remained within the "Top 5" for five consecutive seasons, finishing second during the 2016/17 season, 6 points behind London rivals Chelsea.
Arguably, Spurs delivered some of their best performances under former boss Mauricio Pochettino, who the club dismissed on November 19th, 2019.
Although Spurs had a tough time under Nuno Espirito Santo, whose tenure as manager ended after just four months, Tottenham Hotspur looks rejuvenated with former Chelsea boss Antonio Conte in charge.
Even Chelsea's current manager, Thomas Tuchel, has admitted that Conte's appointment can only be positive for Tottenham and the Premier League.
The Italian is the second former Chelsea boss to join Spurs, after Jose Mourinho.  
With the rivalry between Tottenham Hotspur and Chelsea intensifying year-on-year, we decided to look into the history of the Spurs v Chelsea rivalry.
Tottenham Hotspur v Chelsea: Rivalry History
Initially, Spurs and Chelsea never considered each other primary rivals, with fans claiming West Ham United to be the Blues biggest rivals and Arsenal to be Tottenham Hotspur.
However, that changed during the 2015/16 season, following the notorious "Battle of Stamford Bridge" – arguably the most notable game between the two teams. The game isn't famous for the usual free-flowing football between Spurs and Chelsea but for the meaty tackles and poor gamesmanship.
Chelsea's season had been nothing short of a disaster under Jose Mourinho, and the Blues were 16th in the table at the time – one point above relegation.
On the other hand, Tottenham Hotspur was in a title race with Leicester City, with a win at Stamford Bridge proving to be all they needed to seal Premier League victory.
Although Spurs had not achieved a win at Stamford Bridge since 1990, the odds weren't necessarily stacked against them as they had been in top form all season.
Tottenham Hotspur went ahead 2-0 at the break, thanks to goals from Harry Kane and Son Heung-Min. Although tensions threatened to boil over in the first half, with Poch even walking onto the pitch to defuse an argument between Willian and Danny Rose, Spurs were on the front foot.
The prospect of Chelsea making a comeback seemed very unlikely, but the Blues were prepared to do whatever it takes to stop the Lilywhites from taking the title.
Thirteen minutes into the second half, Gary Cahill added Chelsea to the scoresheet. Then substitute Eden Hazard equalised in the 83rd minute, curling the ball into the top corner.
With just seven minutes left until full-time, Spurs couldn't find an opportunity to score a winning strike.
The draw secured Leicester City the Premier League title, while the number of incidents that occurred made the Chelsea v Spurs match one of the most memorable of the season. 
Late tackles, violent conduct, eye-gouging and verbal abuse earned this game the label as "one of the feistiest encounters the Premier League had seen." A total of 12 yellow cards were dished out, nine of which went to Spurs. Mousa Dembele was also given a 16-match ban after gouging then-Chelsea striker Diego Costa's eye.
Referee Mark Clattenburg told The Standard, "I went in with a game plan: I didn't want Tottenham Hotspur blaming Mark Clattenburg that they were losing the title. There should have been three red cards to Tottenham. I allowed them to self-destruct, so all the media, all the people in the world went: 'Tottenham lost the title.'"
While most of Chelsea's starting XI from that match has left the club, several Spurs players are still around, and they won't have forgotten that night.
And now Tottenham Hotspur also has the man that brought Chelsea so much glory in the past, Antonio Conte. Antonio Conte has won various trophies as a player and a manager, most of which he earned at Juventus.
In his 15-year career as a manager, he has won:
1 Premier League title

1 FA Cup title

5 Serie A titles

1 Serie B title

2 Supercoppa Italiana titles
He is one of the most decorated managers working in the Premier League, with his trophy cabinet besting Liverpool's Jurgen Klopp and Chelsea's Thomas Tuchel.
During his short tenure at Chelsea, the Blues won the Premier League title with 93 points – the second-highest score in its history. Now in charge of Tottenham, Conte faced his former club for the first time as Spurs boss during a Carabao Cup game on January 5th 2022. Spurs vs Chelsea played out in the Premier League on January 12th 2022, at Tottenham Hotspur Stadium.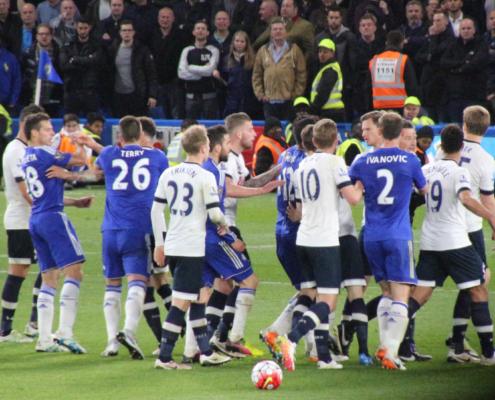 When did Spurs vs Chelsea first play out?
The first competitive Spurs vs Chelsea match dates back to December 18th 1909, before 50,000 spectators at Stamford Bridge.
The game ended Chelsea 2-1 Tottenham Hotspur, with Spurs William Minter and Chelsea's James Bradshaw and Jimmy Windridge scoring the goals.
Tottenham had only joined the English Football League the previous year and had been promoted to Division One that season. However, Tottenham Hotspur didn't have to wait long to inflict revenge on their London rivals.
When did Tottenham Hotspur first beat Chelsea?
After losing their first competitive match against Chelsea, the two sides met in an FA Cup match at Stamford Bridge just two months later.
Despite being newly promoted, Spurs defeated Chelsea 1-0 with a goal from Percy Humphreys.
Tottenham Hotspur then beat Chelsea in the next match and first home game. Spurs defeated Chelsea 2-1 at the old White Hart Lane Stadium, with the winning goal scored by former Chelsea player Percy Humphreys.
Tottenham Hotspur vs Chelsea: Head-to-Head Record
Tottenham Hotspur v Chelsea has played out 172 times since the first meeting in 1909.
Of the 172 games played, Spurs have won 55 matches, drawn 41 and lost 76 times. Visit our Premier League Table page to view Spurs and Chelsea's current rankings.
Tottenham Hotspur vs Chelsea: Biggest Win
Spurs sealed their biggest win against Chelsea during a First Division match during the 1920/21 season.
Tottenham Hotspur defeated Chelsea 5-0 at home thanks to Ben Bliss' hattrick and goals from Jimmy Dimmock and Charlie Wilson. Spurs enjoyed a stellar season that year, finishing fifth in the league and beating Chelsea to lift the FA Cup trophy.
Spurs vs Chelsea:
 Which team has won more trophies?
While Chelsea has won more trophies than Tottenham Hotspur, Spurs have 24 major honours, including two Division One titles! As of writing, Spurs have won:
X8 FA Cup

X4 League Cups

X2 Division One

X2 UEFA Cup Winners'

X1 European Cup-Winners Cup
Although Spurs haven't won a trophy in recent years, they placed second in the first tier of the EFL during the 2016/17 season and were Champions League runners-up during the 2018/19 season. Tottenham Hotspur also reached the Carabao Cup final during the 2020/21 season, losing by just 1-0 to Manchester City.
What players have been signed to Chelsea and Tottenham Hotspur?
Few have made the hostile switchover from Chelsea to Spurs and vice versa, vowing loyalty to their first respective clubs. However, some notable footballers have made the daring move, including:
William Gallas
The French defender appeared to have no concept of loyalty, having played for Arsenal, Spurs and Chelsea – the first and only player to do so. Gallas started his English football career with Chelsea at Stamford Bridge and went on to win the Premier League title before spending four years at Arsenal. After his stint with Arsenal, he moved to Spurs and played 61 games for THFC.
Terry Venables
Terry Venables started his football career at Chelsea in 1960 and even captained the side before switching allegiances in 1966. Venables fast became a fan favourite after joining Tottenham Hotspur and was a member of the winning FA Cup team in 1967.
He left the club in 1969 to join Queen Park Rangers but returned as a manager several years later, leading the team to FA Cup success in 1991.
Glenn Hoddle
Glenn Hoddle developed through the youth system and quickly became a Tottenham Hotspur Club legend, with his skill and ability to score instrumental to Spurs success during the FA Cup finals in 1981 and 1982. 
He left Tottenham Hotspur and moved to France in 1987 before returning to the EFL and signing for Chelsea. Hoddle is also the only man to have played for both Spurs and Chelsea and manage the two sides. 
Guys Poyet
Guys Poyet's transfer to Spurs will be a painful memory for the Chelsea faithful.
Poyet was part of the Chelsea side that tasted European success at Stamford Bridge, winning the UEFA Cup Winner's Cup and UEFA Super Cup during his four years at the Bridge.
He left Chelsea in 2001 to sign for rivals Tottenham Hotspur and met his old team the same year in a League Cup match. After being substituted in Spurs 5-1 victory, he kissed the Spurs badge in front of the Chelsea fans who had been singing his name just moments before. Superb stuff, Gus.
Jimmy Greaves
Jimmy Greaves scored on his first-team debut for Chelsea against Spurs – little did he know he would go on to be both a Spurs and Chelsea legend. Greaves, a natural goal scorer, became Spurs' all-time leading goal scorer, signing for £99,000 from AC Milan as then-manager Bill Nicholson didn't want to burden him with being the first £100K signing.
Jimmy Greaves scored a hat trick on his Spurs debut, and the rest, as they say, was history.
How can I buy Spurs vs Chelsea tickets?
You can buy official Spurs v Chelsea tickets at Eventmasters Travel – licensed resellers of Tottenham Hotspur Football Club. But why not enhance your matchday with official Tottenham Hotspur hospitality packages?
The Tottenham v Chelsea London Derby are among our most popular hospitality tickets. So to avoid disappointment, secure your football hospitality packages early and see these two Premier League heavyweights in action at the new state-of-the-art stadium.