Spurs vs Chelsea: Down The Years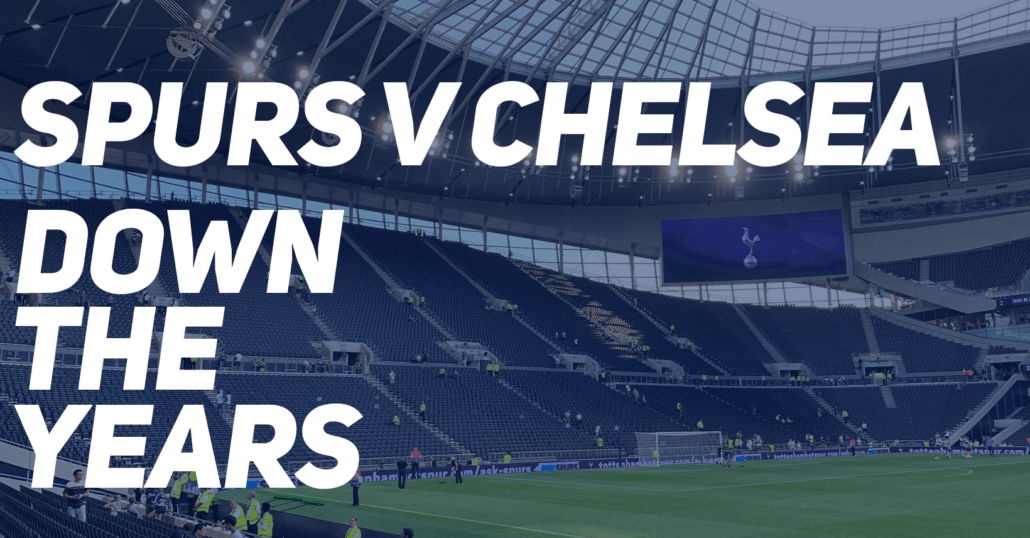 Spurs v Chelsea has always thrown up some tasty fiery fixtures over the past few years when the two London rivals have locked horns. Both Tottenham and Chelsea have tasted indifferent success in recent years as Chelsea were bought out by Russian billionaire Roman Abramovich and have gone on to win the Champions League and numerous Premier League titles under now Spurs boss Jose Mourinho but didn't really taste much success in the 80s and 90s.  Spurs have been on the incline ever since the days of Harry Redknapp at White Hart Lane who put in the foundations for where Spurs are now in the magnificent Tottenham Hotspur Stadium. We've decided to have a look back down the years at the rivalry between Spurs v Chelsea and compared the two sides.
When did Spurs first play Chelsea?
You have to go all the way back to 18th December 1909 to find the first time that Spurs played Chelsea in a competitive game. The match finished Chelsea 2-1 Spurs. A goal from William Minter wasn't enough for Spurs as James Bradshaw and Jimmy Windridge scored to give Chelsea the victory in front of 50,000 spectators at Stamford Bridge. Tottenham had only joined the Football League the year before and were promoted to Division One that season and struggled throughout.
When did Spurs first beat Chelsea?
It didn't take long for Spurs to inflict revenge on their London rivals, Chelsea. Spurs and Chelsea met in the FA Cup just one year later in 1910 where Spurs won 1-0 in the FA Cup at Stamford Bridge. A goal from Percy Humphreys the difference.
What is Spurs' record against Chelsea?
Spurs have usually been pretty even against the Blues since records began. Spurs v Chelsea has occurred a staggering 164 times since 1909. Unfortunately for Spurs, Chelsea have won more games. Spurs' record against Chelsea stands at won 54, drawn 40 and lost 70.
Spurs vs Chelsea: Biggest Win
Spurs' biggest win against Chelsea came in the 1920/21 First Division where the scored finished Tottenham Hotspur 5-0 Chelsea. That season Spurs finished fifth in the league and famously lifted the FA Cup. A stellar year for Tottenham Hotspur fans, having beaten Chelsea and scooping the FA Cup.
Who has won more trophies, Spurs or Chelsea?
Chelsea have won more trophies than Spurs in their history. Spurs have lifted a very respectable and commendable 24 trophies. These include:
X2 Europa Leagues
X1 UEFA Cup Winners' Cup
X2 Division One
X8 FA Cup
X4 League Cups
Chelsea, whilst boasting more trophies than Spurs have won the coveted Champions League in 2012 – the same competition that Spurs got to the final of last season before being beaten by Liverpool.
Players to have played for Spurs and Chelsea
Not many have made the hostile switchover London from Spurs to Chelsea amid loyalty to their first respective clubs. However there have been some notable footballers who have made the switch from Spurs to Chelsea or vice versa.
William Gallas
The French defender had no concept of the world loyalty having played for Arsenal, Spurs and Chelsea – the first and only player to do so. Gallas started his English football career at Stamford Bridge where he won the title before spending four years at Arsenal. He went on to play for Spurs after his stint at Arsenal where he played 61 games for Tottenham.
Terry Venables
Venables started his career at Chelsea and captained the side. Terry decided to switch allegiances in 1966 and joined Spurs where he became a fan favourite with the Tottenham Hotspur faithful. He even won the FA Cup with Spurs in 1967.
Glenn Hoddle
Hoddle became a professional footballer at Tottenham Hotspur and is most definitely a legend at the club. He won two FA Cups at Spurs and is adored by Spurs fans around the globe. After a stint playing in France, Hoddle returned to England where he played for Chelsea. He's also the only man to have played for both Spurs and Chelsea and manage the two sides. A true Spurs hero.
Gus Poyet
This will be a sore one for Chelsea fans. Poyet was part of the side that tasted European success at Stamford Bridge when he was part of the side that won the UEFA Cup. He left Chelsea in 2001 for Tottenham Hotspur. The two sides met that year in the League Cup and after being substituted when Spurs were 5-1 up, he kissed the Spurs badge in front of the Chelsea fans. Superb stuff, Gus.
Jimmy Greaves
Greaves scored on his first team debut for Chelsea against Spurs – little did he know he would go on to be both a Spurs and Chelsea legend. Greaves, a natural goal scorer became Spurs' all-time leading goal scorer having signed for £99,000 from AC Milan. Jimmy Greaves scored a hat trick on his Spurs debut and the rest, as they, was history.
Spurs vs Chelsea in recent times
The most notable game between Spurs and Chelsea recently would probably be the Battle of Stamford Bridge. The two teams played each other in May 2016 in a season where Spurs were mounting a serious title bid. Spurs went 2-0 up only for Chelsea to draw level, handing Leicester City the title. This game wasn't famous for free flowing football between Spurs and Chelsea but for the meaty tackles and poor gamesmanship. Late tackles, violent conduct, eye-gouging and verbal abuse earnt this game the label as one of the feistiest encounters the Premier League had seen. Referee Mark Clattenburg told The Standard "I went in with a gameplan: that I didn't want Tottenham Hotspur blaming Mark Clattenburg that they were losing the title. There should have been three red cards to Tottenham. I allowed them to self-destruct so all the media, all the people in the world went: 'Tottenham lost the title."
It will always be remembered as the day when Chelsea cost Tottenham Hotspur the title.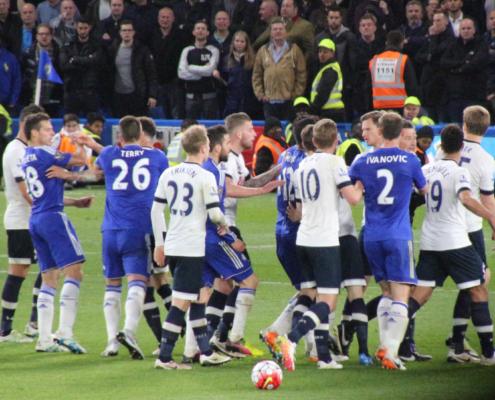 Now Tottenham Hotspur have the man that brought Chelsea so much glory in the past, Jose Mourinho. Mourinho won a number of league titles at Chelsea over two spells and he was adored for large parts of his tenure there. Now in charge of Tottenham, Mourinho faces his former club for the first time as Spurs boss on December 22nd at the Tottenham Hotspur Stadium. Spurs vs Chelsea tickets are very limited as the Special One returns to face his former employer.
How can I buy Spurs vs Chelsea tickets?
You can buy Spurs v Chelsea tickets via Eventmasters Travel. The fixture takes place on December 22nd at the Tottenham Hotspur stadium and you can buyTottenham hospitality and match tickets through us. Tottenham v Chelsea  tickets are very limited and can be found on our website. It's the first time that Tottenham v Chelsea will happen at the new stiadum.