Tottenham Hotspur announces partnership with Formula 1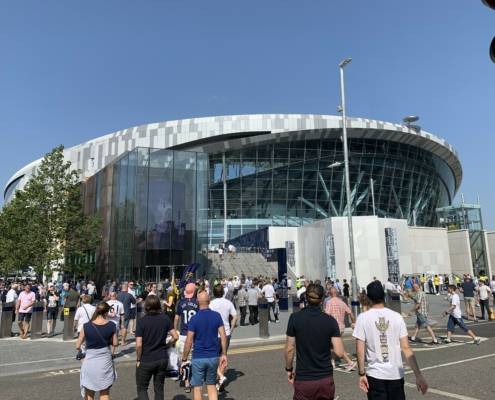 Spurs announced a 15 year partnership with Formula 1 this week
The Tottenham Hotspur Stadium is one of the leading multi-purpose venues in the world. It of course hosts football, but it is also able to host the NFL (National Football League), rugby, boxing and concerts. Speaking of concerts, Beyoncé's Renaissance World Tour will be visiting the home of Spurs in May and June 2023.
A 15 year partnership with Formula 1 was announced by Tottenham on Tuesday and it will not only benefit the stadium itself and the sport of Formula 1, it will also bring with it great benefits for the environment and the local community.
Formula 1 is one of the most popular and oldest competitions in motor racing. It first took place all the way back in 1950, Argentine driver Juan Manuel Fangio (Ferrari, Maserati, Alfa Romeo & Mercedes) won 5 of the first 8 world championships.
Michael Schumacher and Lewis Hamilton hold a joint record for world championships (7), with Max Verstappen the most recent champion in 2022.
This partnership means that the Tottenham Hotspur Stadium will become the first football stadium in Europe to be home to National Karting Association accredited adult and junior tracks for a future that could see the stadium host national karting championships.
It will also be the first in the world to have an in-stadium electric karting facility and it will also become the longest indoor track in London when it opens in Autumn this year. The facility and track will be based underneath the South Stand.
Diversity is a key aspect of this partnership. Apprenticeship programmes and a number of career opportunities will be on offer which will provide a vast number of opportunities for young people in the local area.
The Tottenham Hotspur Stadium will also be the home of a driver academy programme. The programme will be there to provide and engage local young people in motorsport through a range of educational activities. There will also be a career opportunities showcase which includes engineering.
This partnership is not just about high octane racing action taking place in the heart of the local community. As previously mentioned, there will be environment benefits from this deal. Formula 1 is looking to become a net zero carbon sport by 2030 and Tottenham Hotspur currently have the status of being the greenest club in the Premier League.
This is what Spurs Chairman Daniel Levy had to say on the news.
He said (via tottenhamhotspur.com): "Since building this stadium our ambition has always been to see how far we can push the boundaries in delivering world-class experiences that will attract people from around the world all year round. We have been able to bring the biggest names in sport and entertainment to London N17. We are extremely excited about what this long-term partnership with F1 will bring for our global, national and local communities."
This will be exciting for Spurs fans around the world, especially those who enjoy high octane racing action.
---
Our Spurs tickets and hospitality packages are available for all upcoming Spurs home matches at the new Tottenham Hotspur Stadium this 2023/24 Premier League season.
To purchase, click on the relevant link below.
Also, be sure to follow us on Facebook and Twitter to keep up to date with the latest ticket information and sign up for our regular Spurs Newsletter for all things Tottenham Hotspur!
Spurs Upcoming Home Fixtures