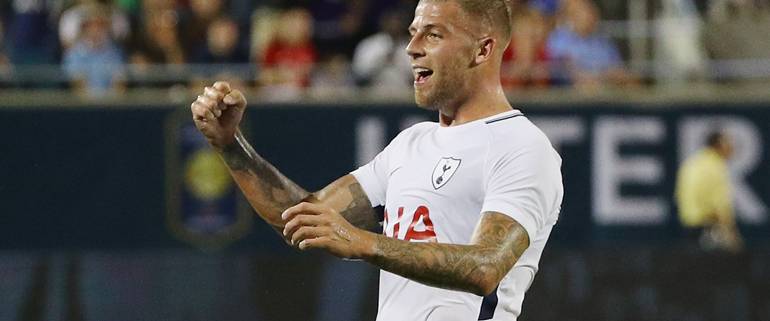 The Tottenham Hotspur centre-back, Toby Alderweireld, will remain on the shores of Britain whilst his Spurs teammates head to Turin in their Champions League clash with Italian giants Juventus.
Toby Alderweireld tore his hamstring in early November when Spurs beat Real Madrid 3-1 in the Champions League group stage. Tearing a hamstring is a serious injury and takes time, patience, and dedicated physiotherapy to ensure a return to full fitness. It is not unusual for a player to spend three months absent from first-team football once an injury like this has occurred. However, his omission has recently sparked rumours that Toby Alderweireld's future at the club is uncertain. The Belgian defender's contract expires next summer, and Spurs have an option to extend it until 2020 if they wish.  They have not activated an extension just yet. The speculation regarding Toby's immediate career plans has mounted due to the fact that he hasn't committed himself, in writing, to the club for over 18 months.
Toby played the full ninety minutes in the FA Cup replay against Newport, leading some fans to believe that the Belgian international is back to full fitness. It does seem strange to keep a returning player on for the full ninety when recovering from a serious injury. Usually, managers tend to give a player perhaps 20 minutes at the end, to ease them back into the swing of things. However, it seems that Alderweireld's injury is the source of his dismissal from the Champions League line-up and is therefore not entirely if at all, linked with his contractual obligations to Spurs. If you look at Pochettino's history with players that have suffered from long-term injuries, such as Danny Rose or Erik Lamela for instance, it is well within his repertoire to start players against teams he deems to be less threatening, or who compete at a standard of football lower than what Tottenham Hotspur are used to. The fact that Alderweireld has disappeared from the team sheet, therefore, should not seem out of place. The Belgian international has not put pen to paper, and this fact alone might be an appropriate indication of his own uncertainty; but at this point, that in itself is wholly speculative. Toby may just be waiting until the end of the season, or until he's back to full fitness for Spurs, to be ready to add another year to his contract.
Alderwiereld could make Spurs v Juventus 2nd Leg
For now, Toby Alderwiereld will be watching the game from within the UK and will work on his own personal fitness in order to be available for the second leg game on the 7th March.
https://eventmasters.tottenhamhotspurtravelclub.tickets/wp-content/uploads/2018/03/Alder-Harry.jpg
385
770
Patryk Kaczmarek
https://eventmasters.tottenhamhotspurtravelclub.tickets/wp-content/uploads/2019/10/TH-Official-Club-Reseller_Landscape-POS_CMYK-1-1030x559.jpg
Patryk Kaczmarek
2018-02-13 09:07:51
2021-09-14 15:05:49
Toby Alderweireld misses out on Juventus match