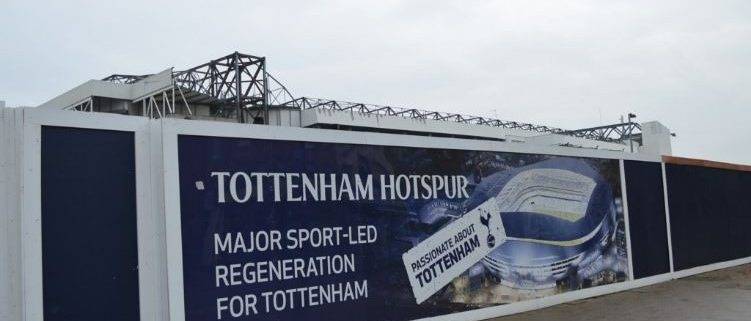 Spurs fans across the country are eagerly anticipating the opening of the new Stadium that will stand on the same site of their beloved White Hart Lane. Ever since Daniel Levy commissioned its construction last year, excitement has stirred surrounding what the next home of Tottenham Hotspur will have in store for the club. With a proposed capacity of 62,000 spectators, almost doubling the size the Lane, a much wider fan base will be able to see the Lilywhites play on a regular basis. One rationale behind switching out the old for the new, was the approximately 58,000 Spurs fans on the waiting list for season ticket applications. A projected cost has not been disclosed for the erection of the unnamed stadium, however estimations would place it within the region of £850 million.
Tottenham Hotspur released a sneak-peak inside view of the stadium on their Instagram page today, which shows the construction in full swing. With the sun beaming down over the ground, the panoramic view of the stands shows us the sheer size of the stadium. It is certainly something to marvel at, click the video below to have a look:
The stadium will have its grand opening at the start of the next Premier League season when the Spurs team will vacate their current occupancy of Wembley Stadium and begin writing the first page of history at this stunning new venue. The team has been on fiery form as of late and currently pursue a spot for Champions League qualification for the coming season. Some fans have deemed it a 'new era' under Mauricio Pochettino, whose attacking style of play and confidence in youth players have widely impressed the Tottenham loyal. If this truly is a new era for Tottenham then it is only fitting they have a majestic stadium with which they can cement this new era for years to come.
A new age for Corporate Hospitality.
Spurs are ensuring a plethora of hospitality tickets tailored to the tastes of its loyal fan base. Between its premium suites, lodges and lounges, there is something for everybody. Whether you prefer to watch the action in an exclusive and private setting, or you like an informal and lively atmosphere, the flexibility in hospitality packages can satisfy your preferences. The new Spurs stadium will represent the pinnacle of club football's most innovative, modern and luxurious match-day experiences. Eventmasters Travel Ltd are proud to be an official reseller of Tottenham Hotspur corporate hospitality packages, and we invite you to indulge in the new way of enjoying football.
https://eventmasters.tottenhamhotspurtravelclub.tickets/wp-content/uploads/2018/02/New-Stadium-Post-2.jpg
499
751
Patryk Kaczmarek
https://eventmasters.tottenhamhotspurtravelclub.tickets/wp-content/uploads/2019/10/TH-Official-Club-Reseller_Landscape-POS_CMYK-1-1030x559.jpg
Patryk Kaczmarek
2018-02-06 10:43:30
2019-02-14 12:09:28
Spurs New Stadium: An Inside Look (Video)