Spurs Media Watch: O'Hara on fight & Jose coronavirus help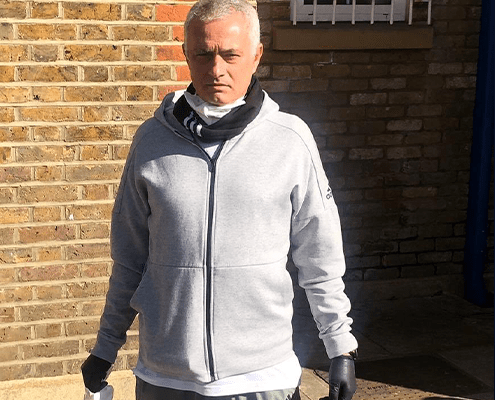 Tuesday, March 24th 2020
Jamie O'Hara reveals what really happened between Edgar Davids and Robbie Keane
There has always been a rumour circling around the Tottenham Hotspur Stadium and Hotspur Way that surrounds both Spurs legend Robbie Keane and enigmatic midfielder Edgar Davids. The duo was rumoured to have an altercation in one day but nothing more has been said – even after all these years.
Robbie Keane is thought of very fondly by the Spurs fans, Keane joined Premier League Tottenham Hotspur in 2002 from Leeds United for a fee of around £7 million and left Spurs to join Liverpool – the football club he had supported from a young age. Robbie Keane then returned to White Hart Lane back in 2009 and returned to his spiritual home. Keane scored 91 goals for Tottenham Hotspur in 238 appearances and was known for his signature goal celebration that captured the hearts of many Premier League fans around the world.
Edgar Davids' stint at Tottenham Hotspur was very much a short and sweet one. The Spurs fans also took to Davids in his two years of playing for the club but was always a flamboyant character, whose attitude and swagger was more often than not backed up by his playing ability – but it was that arrogance that landed him in a spot of bother with Robbie Keane Spurs Media Centre learns.
Speaking to TalkSPORT this morning, former THFC midfielder Jamie O'Hara revealed the truth behind the supposed altercation between the two players.
Never one to shy away from the limelight himself, O'Hara said: "I remember him giving it to Keano in training and they were having a barney, and I think he tried to step to Robbie Keane and say something – and Keano just sparked him, bosh! He just went, bang – one punch. Gone."
O'Hara also further explained that Edgar Davids had come in from Inter Milan and thought he was the best players at the club but everyone at Tottenham Hotspur regarding Robbie Keane as the best player which is what the altercation is said to be fuelled by.
Now, Edgar Davids was a hard player and a tough tackler whereas Robbie Keane was a cute, nippy striker whose finishing ability was unrivalled so we certainly expected Davids to be the one throwing his weight around. It turns out that you don't mess with Robbie Keane!
Both players have since retired after both enjoying a fruitful and successful career.
Spurs Manager Jose Mourinho takes time to help out elderly affected by Coronavirus
Yesterday we saw Toby Alderweireld announce that he'd be donating 'dozens of tablets' to local hospitals and nursing homes so that those who are in self isolation can contact their loved ones amid the coronavirus outbreak. It was a real act of kindness and a thoughtful gesture from Spurs' Belgian defender. It's heart-warming to see member of Tottenham Hotspur coming together to help those who are really suffering in this horrid time.
Jose Mourinho has also been out helping those in a less fortunate position after he was spotted dropping care packages to elderly citizens in the Enfield area of London who can't leave the house because of the risk that COVID-19 poses to them. It's an act of kindness that makes us proud to call him Spurs' manager.
Reported by The Mirror, Mourinho said in a video that: "I'm giving a little help to Age UK Enfield and Love Your Doorstep Enfield. And of course, you can donate food online or volunteer. It's so easy to contact."
The 57 year old Portuguese manager was seen wearing masks and protective gloves, dropping the care packages in the Enfield area. This was before Prime Minister Boris Johnson announced stricter measures for people leaving the house in the UK so it looks as if Jose had timed it perfectly.
Both AgeUK and Love Your DoorStep have been delivering essential goods to members of the public who have been placed under quarantine for 12 weeks.
It's fantastic to see that we can all come together and put rivalries aside when we are in a desperate time of need. Top work, Jose!
You can keep updated on everything surrounding the coronavirus on our coronavirus football updates page.
Images: @Michael Bridge/Twitter