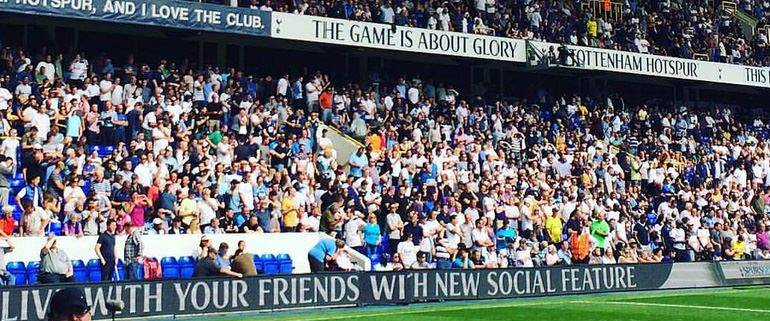 Reports broke out this week that Chelsea owner Roman Abramovich has set his sights on Mauricio Pochettino as he plans to dismiss current manager Antonio Conte. Despite winning the league last year & reaching the FA Cup final this season, Conte's Chelsea have had a disappointing campaign – missing out on the top-four and Champions League football. The Italian is expected to be given the boot after the FA Cup final on the weekend.
It has been said time and time again since the contract talks with Toby Alderweireld received media attention earlier this year – Spurs need to up the financial ante to break the next barrier of becoming a title-contending club. The fans have taken this view for some time, but it was revealing when Pochettino hinted his opinions on the matter in the press last weekend.
SKY SOURCES: Chelsea considering making a move for Mauricio Pochettino if Antonio Conte leaves club. #SSN pic.twitter.com/BvT3quNVKl

— Sky Sports News (@SkySportsNews) May 15, 2018
Pochettino exclaimed that the Spurs Board now need to 'be brave, take risks and create a new idea', which has been taken by some to be an ultimatum. Whether Poch was issuing a threat to leave or not, it is quite unlike him to rustle any feathers about these matters in the public arena. For example, Pochettino unwaveringly towed the line with his refusal to comment on Alderweireld's contract talks, stating that his absences from the pitch were entirely injury and performance-based. However, there is a now a general feeling that the issue of funding, of investment, is one that must be discussed to move forward.
Pochettino will be looking for the financial constraints imposed on his spending and on his players to be somewhat loosened. Reports suggest he would like Levy to approve the motion to sell any big names that don't want to be at the club. Additionally, the fact that Pochettino is taking the front foot, demanding meetings and wanting to initiate summer signings before the start of the World Cup is refreshing for the fans. It shows that he is bustling with ideas and motivations to usher the club forward – but he just needs the nod from Mr. Daniel Levy.
Whether it was Pochettino's intention or not, he has alerted the football world that he may be open to a move away from North London. This should no doubt work in Poch's favour ahead of the summer meeting with the board.
Mauricio Pochettino has the backing of his star players
Another thing that Levy must be wary of is the affiliation that Poch has built up with a number of his key players. Firstly, a couple of players, including Victor Wanyama,  Toby Alderweireld, and Paulo Gazzaniga – as well as key members of his backroom staff – all followed Poch to Tottenham from Southampton. Who is to say that an exodus would not occur if the manager moved again.
Danny Rose has urged #thfc to financially support Mauricio Pochettino in their quest to win the Premier League. pic.twitter.com/ZQ73OaP59B

— Hotspur Related (@HotspurRelated) May 15, 2018
Secondly, players who are deemed vital to the Spurs operation – Hugo Lloris, Harry Kane,  Dele Alli, Jan Vertonghen and Christian Eriksen – have publically professed their ties to Pochettino and their admiration of him as a coach. Eriksen told the Evening Standard,
"He's really important… I think the style of play is something that suits me and the players we have. Generally, you're going into every game with excitement".
Moreover, Mauricio Pochettino has played a significant role in nurturing the swift development of Harry Kane and Dele Alli into the players that they are today. Do you think if Pochettino was no longer at Tottenham Hotspur Harry Kane would be playing for £110,000 a week when he could walk into any club's starting XI? He is one of only two Premier League players this year to score 30+ goals in the campaign– Real Madrid have showered him with interest over the last couple of months – and would be able to pay three times his wages.
The players stay for the same reason that Mauricio Pochettino should stay. There is something stirring in North London. The Tottenham Project has all the components – currently – to achieve their goal of reforming their image as a world-class title-contending club. A youthful, talented, hungry squad, a successful and unique manager, a fine new stadium, and a Spurs-supporting Chairman with a vested interest in not just the finances but the progression of the whole club. Like the faithful internal mechanisms of a clock, Spurs needs all these cogs in operation to keep this project ticking on.
https://eventmasters.tottenhamhotspurtravelclub.tickets/wp-content/uploads/2018/03/Spurs-Image.jpg
385
770
Patryk Kaczmarek
https://eventmasters.tottenhamhotspurtravelclub.tickets/wp-content/uploads/2019/10/TH-Official-Club-Reseller_Landscape-POS_CMYK-1-1030x559.jpg
Patryk Kaczmarek
2018-05-16 11:55:58
2021-09-17 14:07:01
Pochettino set to snub Chelsea job offer